Discussion Starter
•
#1
•
many of you have been following my Stealth Arms 80 percent build and I have received several PM requesting I do another review on my round count with this Stealth Arms 80 percent Frame that I used to build my IDPA/USPSA gun.
I am now at about 3300 rounds and I can report the following. The gun has performed brilliantly, I have had very few malfunctions since my last review at 1000 rounds. (If you do a search on my name you will find my 1000 round review on this gun..) I had three FTF since my last 1000 round review, I attributed this to the ammo and one major malfunction that locked up the gun, I some how slammed the magazine too far into the gun and it locked it up tighter than a drum, took some effort to get it free. After I got it disassembled I noticed that the mag catch was at fault and replaced the MIM Part with a better mag catch from Ed Brown and refitted it and that ended the problem and I have had no issues since replacing the mag catch.
The gun still shoots 2 to 2 1/2 inches at 25 yards. I have noticed some pitting in the Frame Ramp, it is only minor but may get worse, you can see it in the pictures below. I am thinking of ordering an EGW steel frame ramp insert replacement and installing it. I have to say I have been shooting Major factor 230 grain FMJ ammo through it, to include 185 and 230 grain +P Hollow Points. The gun still feeds perfectly and since replacing the mag catch I have had no FTF's.
Calling on the gunsmiths on this forum to look at the photo of the feed ramp and let me know what you all think. Should I replace it with the EGW Insert or leave it alone.
Let's get back to the gun now, the barrel shows very little wear after more than 3000 hard rounds as does the frame and the frame rails. I checked the measurements on everything and all is still within the specs at the time I built it. The trigger has only gotten better, it was breaking cleanly at 4.5 pounds and now it is a very crisp 3.75 pounds according to my trigger scale.
I did replace the grips with a set of G-10 and replaced the rear sight with a Novak. I actually cut the rear sight in myself.. I think it came out really good.
The Cere-coat finish shows no wear whatsoever so I am pleased with that.
So look over the phots and let me know what you think... I report again when I hit the 5000 round mark..
Pistol after a few minor upgrades
Pistol and all of it's parts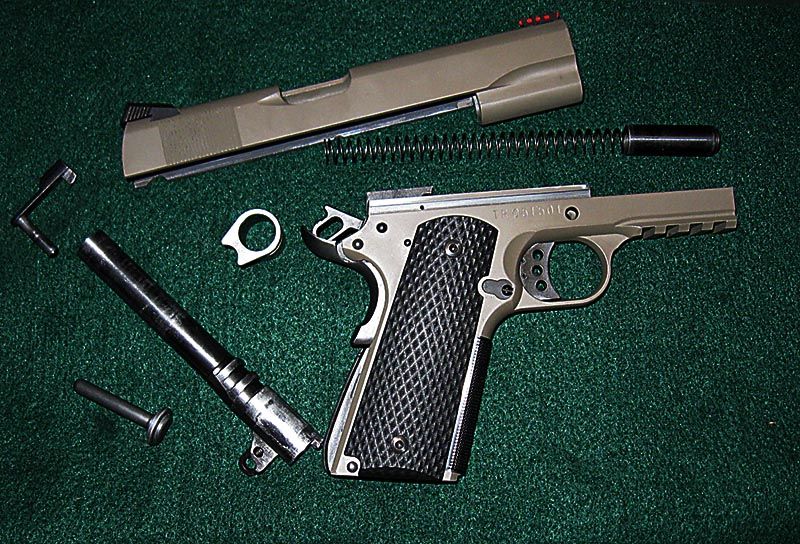 Close up of the Rails
Feed Ramp and Barrel Seat
Close up of the Feed Ramp (you can start to see pitting here will need to keep an eye on this)