A couple of members had approached me about starting a thread to post a collection of Army Chief aka Chuck Petrie's best advices, wisdoms, one liners, etc.
I will begin it with his words from October of 2012 when he asked me to announce his illness and the battle that he will be waging. I will add the words from his wife from this past Saturday morning, December 7, 2013 announcing his passing. Then I will start to collect (cutting and pasting) his words from threads as I remember and as time allows. We will build this slowly, I need your help to collect the words. This is a work in progress and it will not be in any chronological order, it will not be perfect or complete.
October 2012:
I'm sorry to report that my heath continues to devolve rapidly. The sinus sarcoma which first appeared in August has already reached an inoperable stage, and is now expected to take my life in the next 60 days.

Will begin a 2x daily radiation protocol on Monday at UNC so as to at least mount as aggressive an 11th-hour response as possible, but we've no curative expectations of this; we're simply hoping to be able to slow things enough to afford us a few more days together as a family.

God remains in control. Above all else, I feel such a compelling sense of gratitude for the fullness of the life that I have been given, the blessings that have been waiting around every corner, the incredible opportunities that have been extended to me, the friendships that have been my privilege to forge and sustain over the years, and for a family that has consistently loved and supported me far more than I could ever hope to deserve. My story may be ending somewhat prematurely, but what an incredibly meaningful story it has been.

I am prepared for this final fight, and am going forward from here with a very tangible sense of peace; that said, please keep Terri and my family in your prayers as we deal with this most unexpected life change.
In a closed discussion, he added:
Truth is, I'm not even all-that-sure I'm going to make it to Radiation. They can't start until Monday at 0700, and we'll really have to see if I can still breathe while laying flat on my back by then.
Another private message:
Am already beginning to struggle with some airway issues, so I get the sense that the close-in fight will quickly be at hand. In this, I would appreciate a bit of assistance if you've any ideas on how we might make the general membership aware of what is going on, without it coming off as disruptive, overly-dramatic or presumptuous -- which is why I haven't posted anything on my own behalf.
His wife's email on December 7, 2013:
I'm so sorry to have to share this, but Chuck passed away in his sleep at around 2am this morning. I'm so sad as I write this, but so relieved and happy for Chuck. The suffering is over, and he is in heaven now. Many people hope in the reality of heaven and that they'll go there when they die, but for Chuck and me, it's not just a "maybe" or a "I hope I was a good enough person." We know for sure. We have complete faith through our belief in Jesus Christ and the forgiveness He's offered. Chuck and I are both far from perfect and have made a lot of missteps in our lives, but thankfully, it's not about us.

All our comments this past two years about God being good and our having been blessed, stand true even on this awful morning. Chuck's biggest desire was that he be found faithful and that he didn't get in the way and screw up what God wanted to do through this whole thing (his exact words).

He loved you guys and was always deeply moved by the outpouring of love and friendship that came from friends he had, in most cases, never even met. He was so happy to have met both of you! I've been so grateful for the whole community as well! I can't explain what it's all meant to me.

God bless and I will let you know about services, etc. when I have more information.
A couple of pictures of Chuck training with Ken Hackathorn during better days:
Photos courtesy of
www.gandrtactical.com
Here is a picture of our friend when he was in Iraq.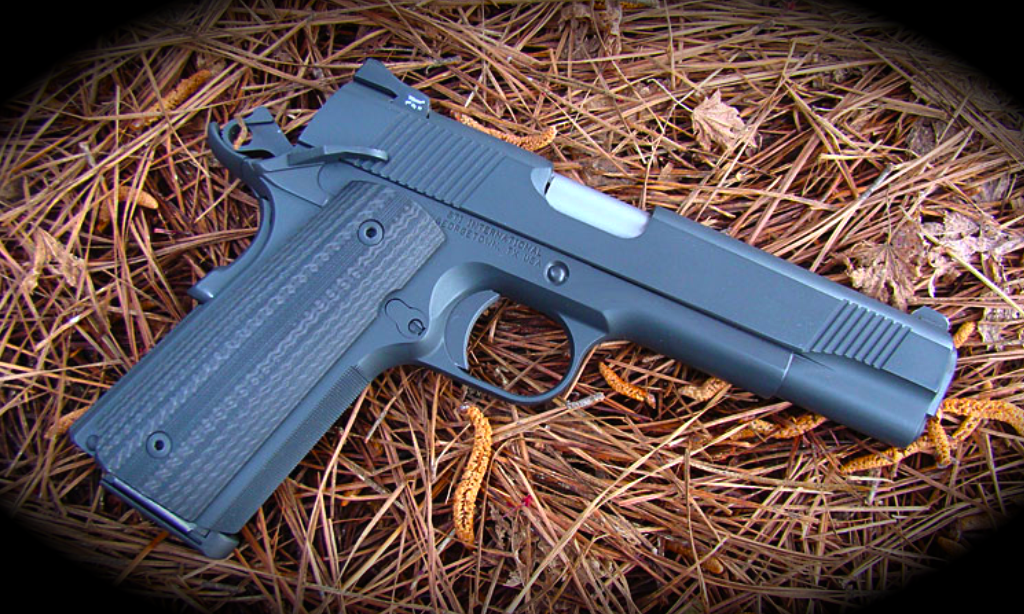 Beware that the pictures are not hosted by me, they're hosted by their owners, so if they disappear, there's nothing I can do about it. Sorry.