Bob Rodgers 1911 Build Class (March 2009) - PICS Restored!
Last year,
Bob Rodgers
(
www.rodgerspistolsmithing.com
) hosted a small group of intrepid 1911 fans in his shop for a special class. Beginning with bare Caspian frames and slides, and all the parts necessary to build complete 1911s, Bob spent six long days with his charges, resulting in some accurate, fine looking pistols (
http://forums.1911forum.com/showthread.php?t=205691&highlight=class
). His wife told me that at the conclusion of the class he was happy but exhausted.
Demonstrating the triumph of hope over experience, Bob is about to undertake another such class this year. With five new students and one returning graduate building another gun, tomorrow (Monday) the second iteration of this class gets underway at 0800. Last year's unofficial Distinguished Graduate,
ddg4238
, is back again, not to build another gun but to assist Bob with this year's particularly challenging group of students, along with Head Window Licker
Irvin
.
As one of this year's class, I arrived in Mountain Home this afternoon with friend, fellow student and training pal
Citrus Dude
to be informed by HWL Irv that I had been elected to chronicle our daily exploits, and so I shall. Here are a couple of shots of Bob's shop and what it looks like inside, with the benches, vises and lights he rigged for us, and our own tools laid out on the work tables.
The Shop
What every shop and estate in the country needs: a tractor and a steel plate rack!
Day Zero saw all students arriving to set up their tools on the workbenches before dinner, save for one, whose long journey may have been made longer by snowstorms in the midwest. With a little luck, he'll be in tonight.
Bob and Citrus Dude in the Shop (and if the Dude looks a little dazed, cut him some slack - he'd just driven 17 hours to get us here)
My work space: overhead light, 300 pound articulating vise (OK, maybe not quite that heavy but massive) and hand tools. I asked for the mattress and ball on the floor, too, but Bob said they belonged to Wil (the adorable dog who owns Bob and Sandy) and that I had no chance.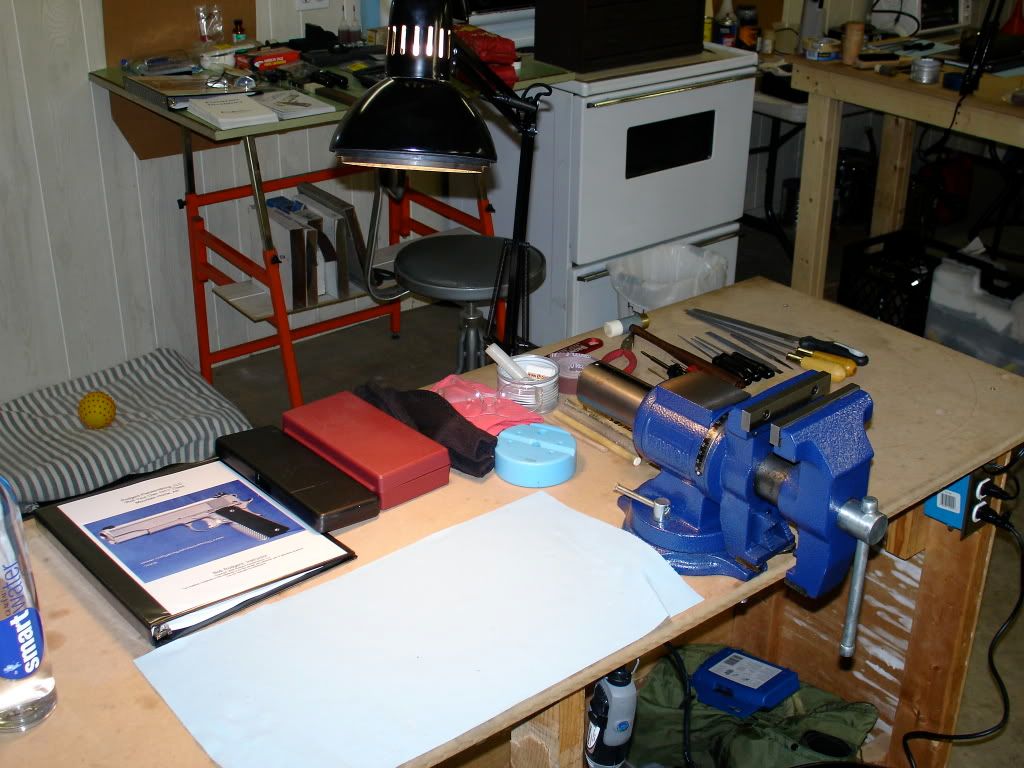 All present, including our gracious hosts Bob and Sandy Rodgers, went to dinner at a local joint famous for terrific fried catfish and breathtaking view of a local lake. We noted on leaving the restaurant that one customer who parked in a handicapped parking space had disabled the post marking said space by backing his cowboy Cadillac into it, leaving it at an angle to threaten pedestrians walking by. Naturally, the offender, now being sought by law enforcement agencies throughout Arkansas, is one of our very own window lickers. Lacking a USB cable tonight, the photos necessary to convict won't appear for a day or so. With full stomachs that hurt from laughing, we piled into our vehicles, and retired for the night.
Parking lot surveillance image shows a horrified wife surveying the damage, but the husband/driver remains unidentified, and is still at large.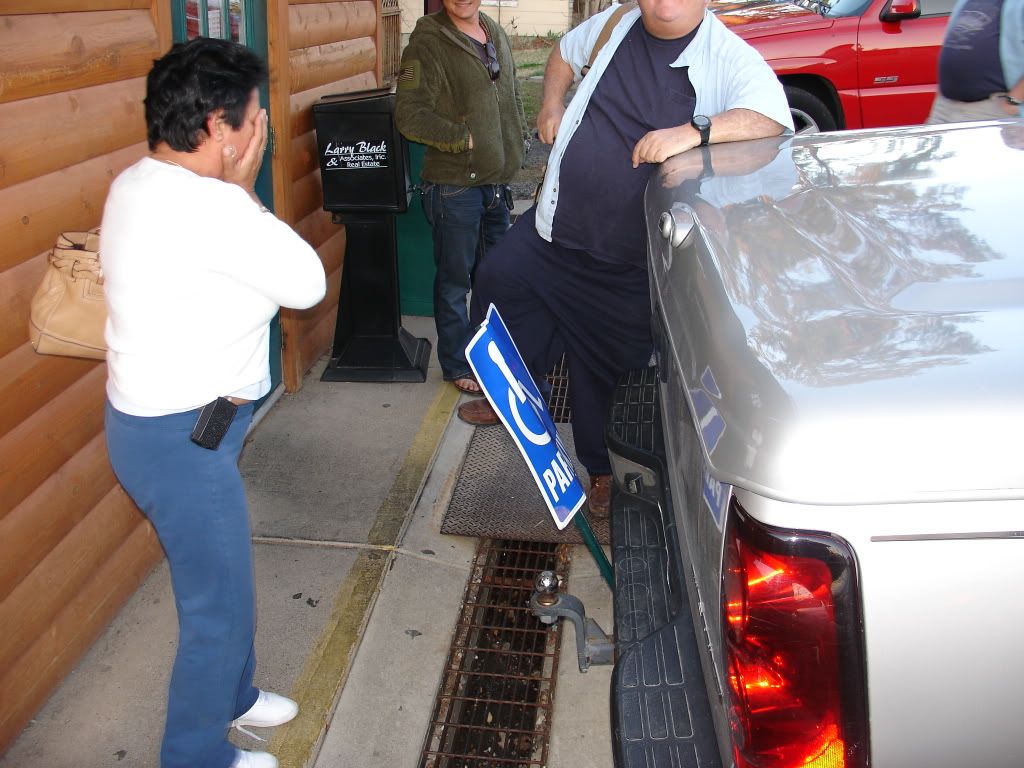 Watch this space for each day's [mis]adventures of this crew as they try the patience and good humor of a great pistolsmith, all-around great guy, and demonstrable glutton for punishment, Bob Rodgers.