Discussion Starter
·
#1
·
I have mentioned that I was going to perform some upgrades to my .45 CBOB and I wanted to report on the progress to date. I had the lock up issues early on (first 100 rounds) but have worked (and shot) through them. The next 750 rounds have been flawless when using Wilson mags. I also mentioned that the trigger on my CBOB was bad (really bad) so I swapped out the hammer, sear and disconnector (and springs) for a Cylinder and Slide Tactical II kit. I hated the black hammer on the 08 model and had some fear of breakage so that, combined with a need for an improved trigger pull forced a need for a change. Results are spectacular! The trigger is perfect and breaks clean. At the same time I changed the trigger to a long solid C&S piece that looks (to me) more correct on a commander sized 1911 used for carry (personal preference). Upon reassembly, the thumb safety required a minor re fit to work smoothly. Fortunately it was a steel off change and was accomplished with a few file strokes following a mark up with a blue Sharpie. I am not a gunsmith by any stetch but I am a mechanical engineer with quite a bit of machine work in my past so these kinds of things don't really scare me and I enjoy the heck out of it. After performing all safety checks (dozens of times), I have positive (click) engagement and somewhat stiff dissengagement of the thumb safety coupled with the perfect trigger. While it was apart, I also swapped out the MSH for an Ed Brown chainlink model. Not sure it affords any better grip but the look is "cool". Here are a couple of pix ...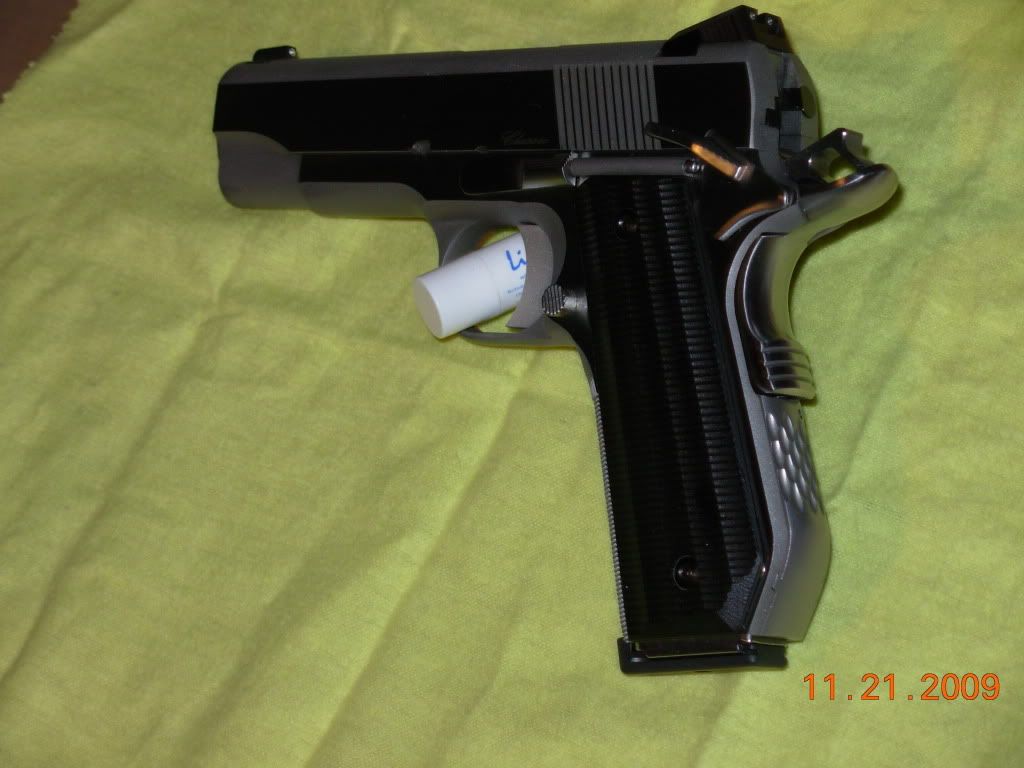 Wish I had the photo skills of some of you guys ...
Next move is an EGW bevel bushing which will get ordered today and a new grip safety that I can fit to stop the rattle in the poorly fit stock unit. When I install the new bushing I will face off the barrel so it is flush and re-chamfer the bore.
Grips are slim VZs and holster is a Sparks Summer Special II.
Love this forum. Love this pistol. Can't wait for the 2010 models to become available.