Discussion Starter
·
#1
·
While I am newly registered, and relatively new to 1911s (mostly CZ75 in my collection), I am not new to this wonderful forum.
After a year of contemplating, and waiting, finally got delivery of my Valor full size in Duty Finish, 2011 model. And it has been patience rewarded! New DW are impossible to get now in neck of the woods specially after that fire. I got this pre-owned (from a close friend), with confirmed 300 rounds through it, (flawless, I am told, and I have no doubts). I am glad I got it this way!
It came with OEM stuff, two mags, cable lock etc. I have arranged 4 Tripp Cobra 8 rounders. Have read good things about them, and they did turn out good too.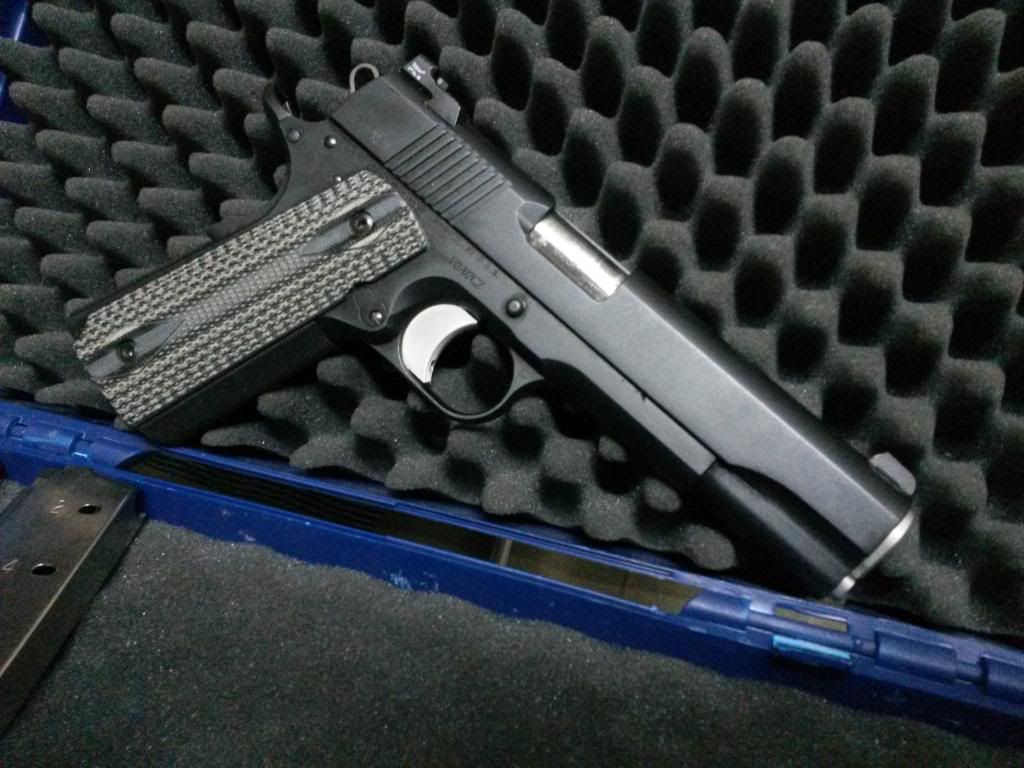 FIT & FINISH
The finish is not standard CZ. It is a far cry above what I have experienced on my CZ75 series of pistols. This is definitely top class. I could not see any tooling marks on the exterior or interior. None.
The Duty finish, as we all would know, is some molecular treatment of Steel, which turns in black. Some nitriding oxidizing heat induced chemical reaction color changing thing.
The fit, well, I really want to handle a Les Baer to compare. Baer have a very high reputation, but, this is as tight, and smooth, as it could be to function reliable.
As mentioned, I got this pre-owned with 300 rounds through it. I believe I may have to run a couple hundred more to get it completely broken in. But, the slide is already on ball bearings almost.
The thumb safety has a crisp click to it. The grips safety wiggles a bit left and right when played with, but it cannot be felt when actually shooting or gripping.
Looks real nice and tight, ain't it?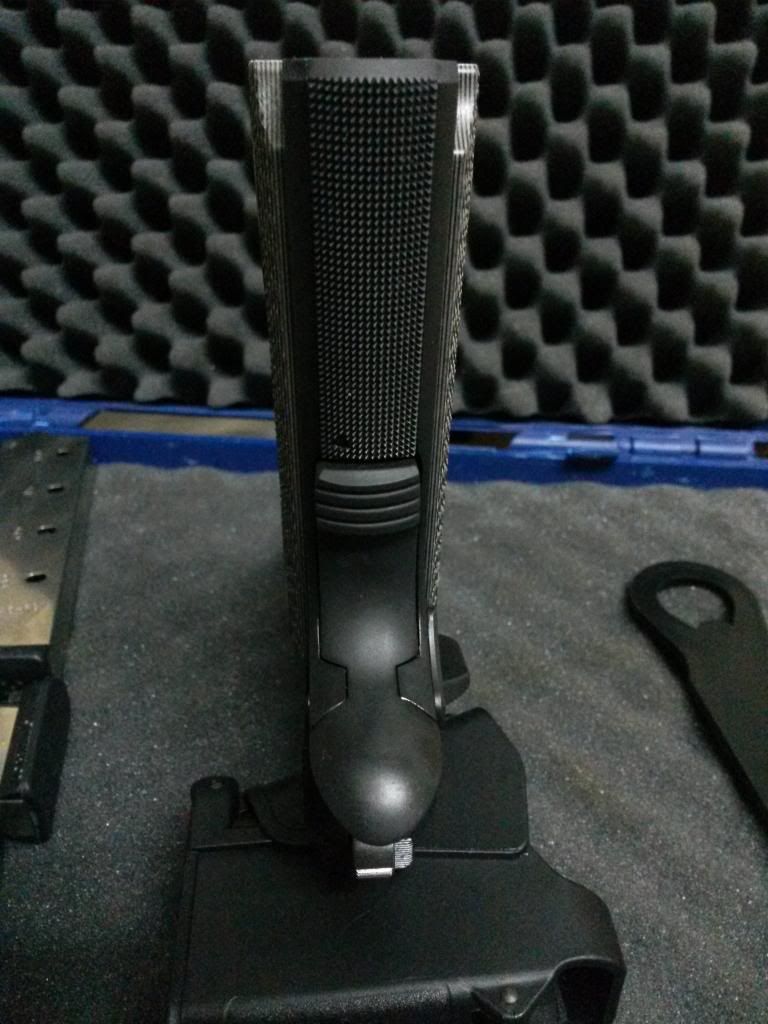 TRIGGER
The trigger breaks at exactly 3.5 lbs, average of 10 pulls. It is 'almost' as crisp as I would like, but then, I intend to keep this for carry and SD, and would not play around with this. There is slight 'mushy' feeling about it, a bit of pre-travel, but I can live with that. To me, this is ideal for a SD 1911. If this were for competition use, I would have preferred a more crisp break, and with reduced pre-travel.
SIGHTS
I have always admired the Heinie straights (while not on top of my preference of straights, but excellent for weapons side of the story). The ledge sights could be handy when cocking/racking with one hand, the sight could be used as a support to hold and rack against. The rear sight dot is a bit too fine for my liking, but it does help in differentiating rear from front. But then, a bit more beef would have been better. I could not a pic in total darkness, but they glow just like other Tritiums.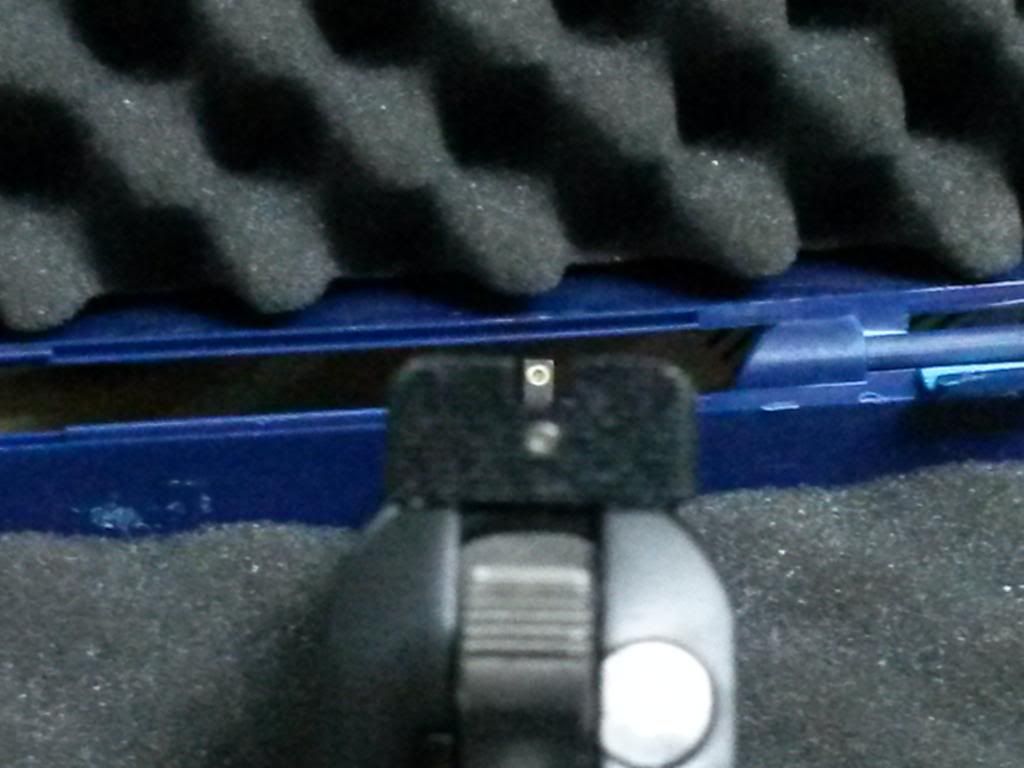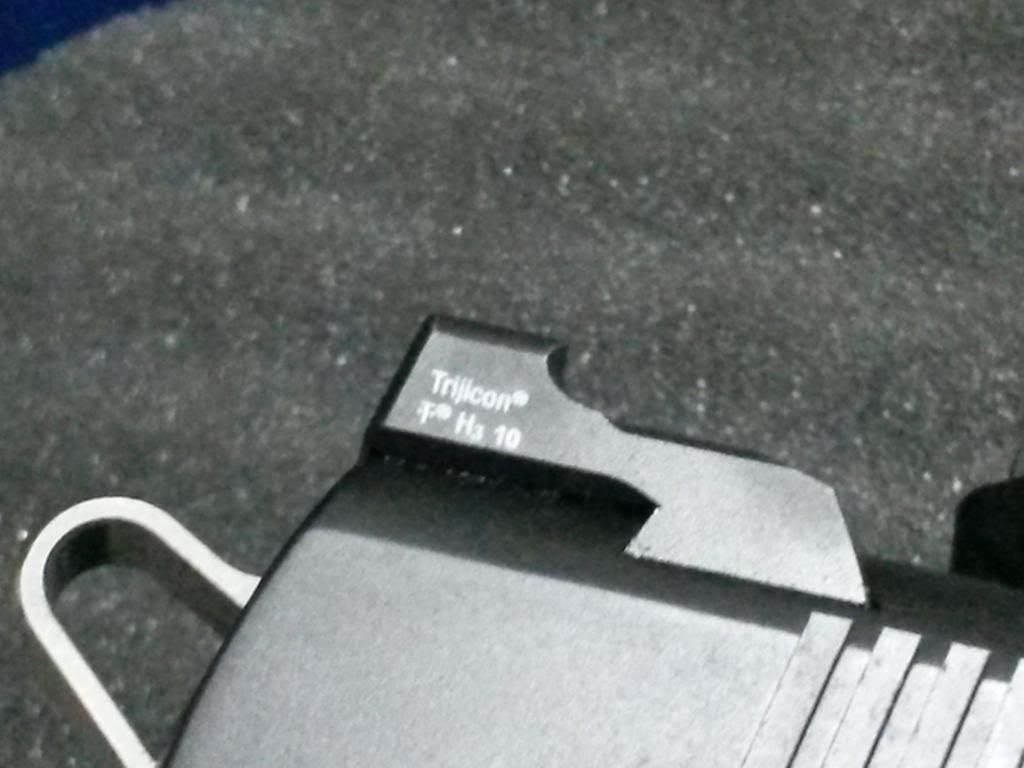 GRIPS
The harsh part. I do not like these grips, or the front checkering. Way too aggressive. The checkering and the grips printed on my hands and fingers when I was playing with this. Hardly half a minute. I have not fired it. And I dread already what these could lead to..true cheese graters.
The barrels read 'match', as in picture below, and are fit pretty tight in the bushing. I do not doubt top accuracy out of it. Lets see how accurate this is for me.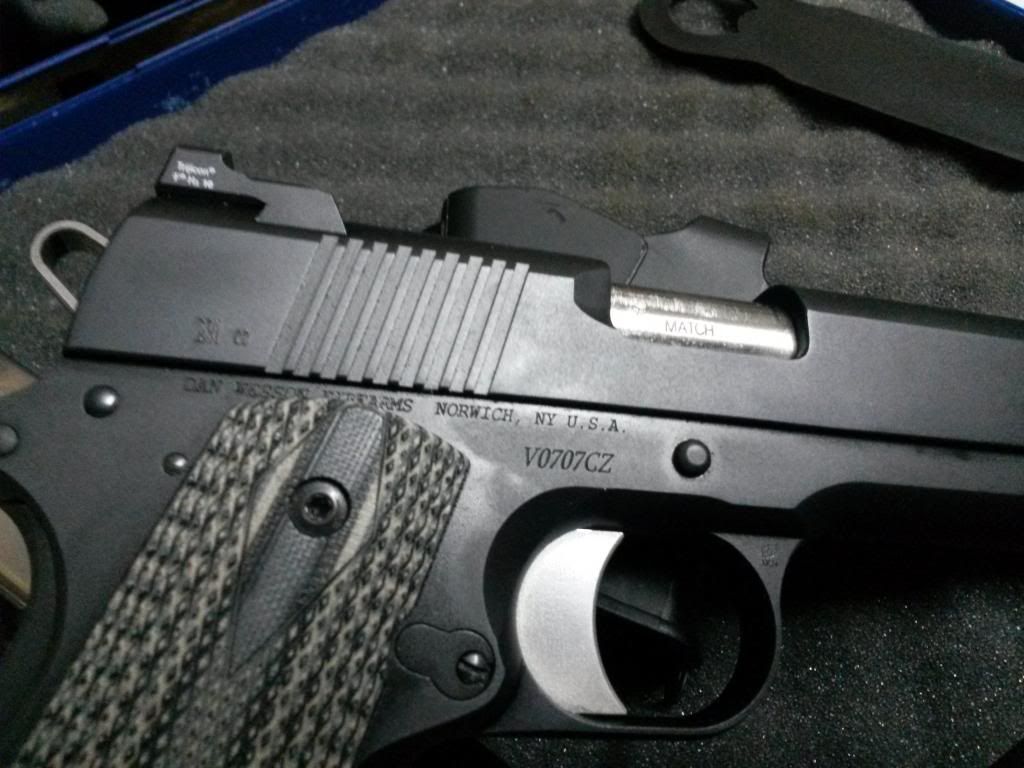 RANGE RESULTS
Accuracy
I decided to give it go. I shot mag fulls (8 rounds per string) to check reliability, and was more focused on group size, than score. I aimed 6'O'Clock, at the intersection of 6 and 7" rings. The gun is shooting 1" to 1.5" high, and 1" to the right at 25mtrs (27.5 yards). which in my view is very acceptable for a SD weapon. at 15mtrs, this should be even in elevation, and just under 1" to the right. Difficult to complain.
The group of first 8 shots is a fraction under 3.5" center to center
, which speaks of accuracy potential. This group was shot single hand, unsupported. So the errors are most likely the shooter. I am sure this is a 1-1.5"" gun on ransom test.
Handgun: Dan Wesson Valor 5"
Distance: 25 Mtrs (27.5 yards)
Technique: Single Hand (right), unsupported, deliberate fire, standing
Ammo: S&B 230gr FMJ .45acp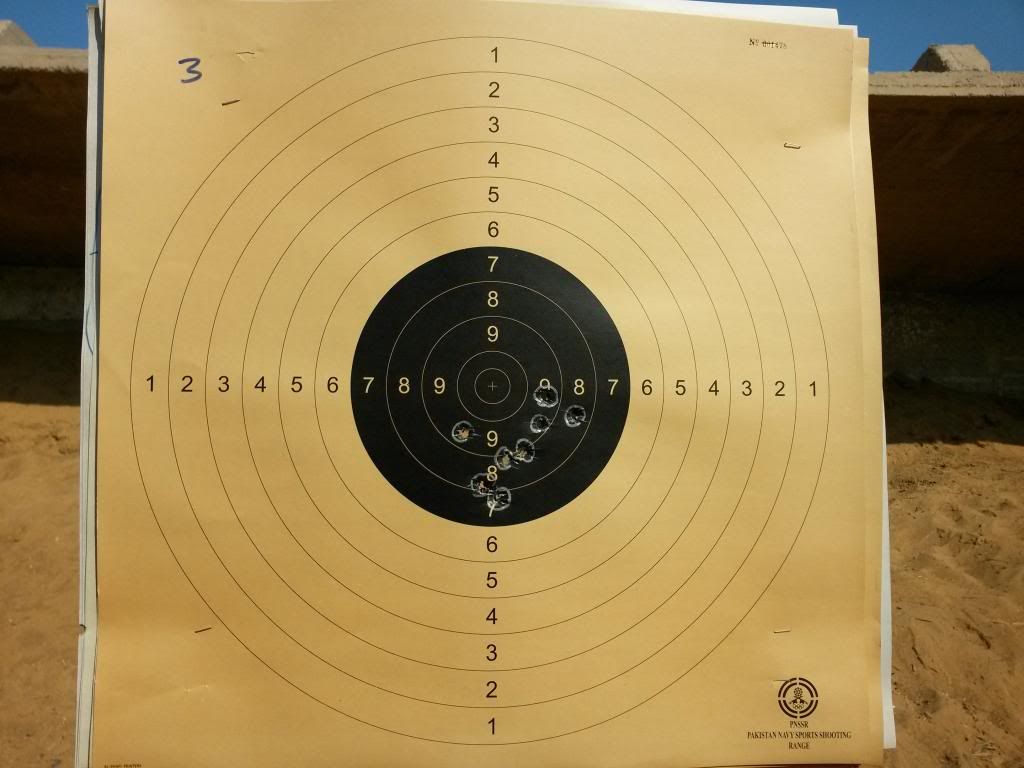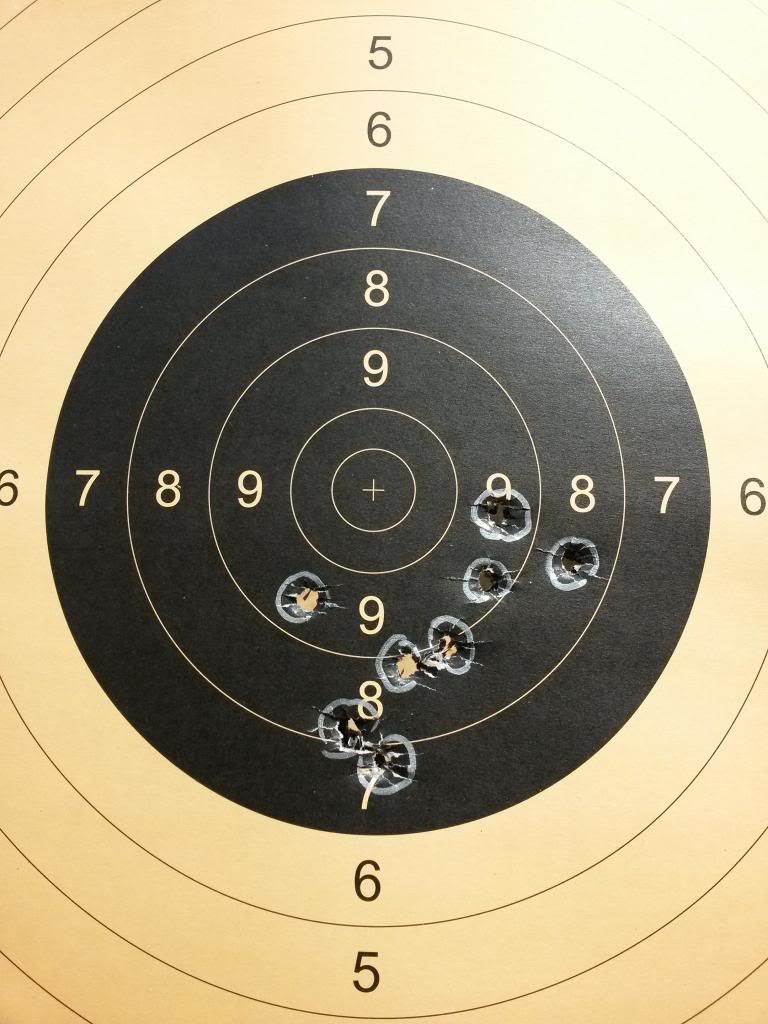 The rings are 1" apart, and '10' ring is 2" in total.
This is how the target looks after three mags of 8 each. Flyers are absolutely my fault. Recoil kicked in, after all.
If we exclude the flyers, the group size is 3.75", and just under 6" with the flyers included.
Not bad off hand, strong hand?
And no hiccups in 50 rounds fired today. So 350 flawless rounds now through this. From all mags, the OEM as well as the 4 Tripp Cobra.
Recoil
Nothing to speak of, considering this was a 45acp. Not much different to me than a 9mm. A bit more of course, but some shooters find this too violent. Perhaps having shot quite a bit in last two years (not so much this year), I am more accustomed to taming recoil. The much dreaded aggressive checkering or grips did not even come in the equation. I might change the recoil spring to a higher rating as the casings were 'flying' out to about 7-8 ft. But that is for later.
I mention this here, because 9mm is the preferred caliber in Pakistan. 45acp is very uncommon, and so is IDPA or IPSC style shooting. Whatever shooting sport does take place is the Olympic style ( bulls eye .22 LR or air pistol etc).
Final Words
This is an excellent SD weapon, and very very accurate. If one can afford to shoot it at the range, (ammo costs and comparatively higher recoil than other range calibers), then with adjustable sights this will be a weapon to beat.