I have two Model 28's...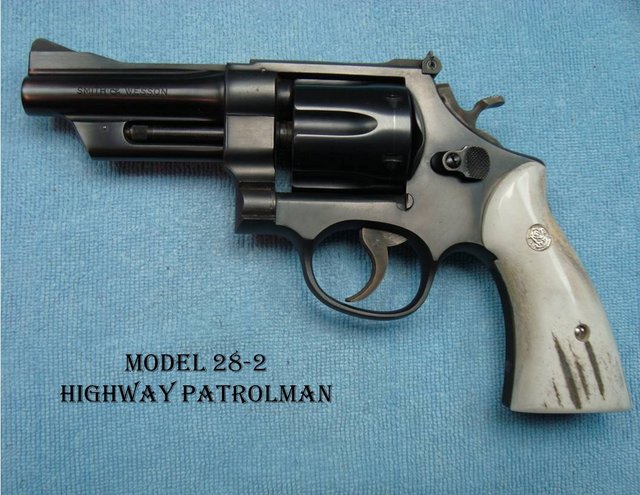 This one is a 4" S-prefix 28-2 wearing Ken Driskill elk stag stocks.
The other started life as a 28-2, but ended up slightly different. Here's the story...
In the early 70's I was a huge fan of Skeeter Skelton's writings and his promotion of the .44 Special. Skeeter also promoted MMC (Miniature Machine Company) as the agent for converting N-frames to that caliber. I drank the Kool-Aide big time. I acquired a used Model 28 ($125) and J&G Rifle Ranch had original S&W Model of 1950 .44 Special 6.5" barrels, which I purchased (don't remember how much - under $50 I'm sure). It even matched the matte finish of the model 28's frame.
I called MMC and found that there was a one year wait (Skeeter was very popular), so I put my name on the list - this was ca 1973. Several months later, in another gun magazine ("Guns" I believe) I came across an article about a gunsmith who was doing this same conversion - it was George Matthews of Downey, CA. I called him immediately and told him what I had and what I wanted. Off it went.
I don't remember how long it took, but it must have been reasonable, because I don't remember calling him for status updates or complaining about the amount of time. When it came back, it was a thing of beauty. The only things that gave it away as being a conversion, rather than an original, were the model stamping under the yoke and the recessed chambers. He installed and pinned the barrel. Bored out the chambers in the cylinder and recessed them. Faced the front of the cylinder and changed out the Patridge blade for a Baughman ramp with a gold insert.
Over the years it has had many thousands of Skeeters favorite rounds shot through it (7.5 grs of Unique behind a 250 gr LSWC, usually a Lyman 429421). It has accounted for many turkeys and hams at local club shoots. It has also undergone some changes in evolving as I matured. I installed a smooth combat trigger and a rebound spring from a Model 14 single action. As the eyes got older I finally gave in to an optical sight - a first generation Tasco ProPoint RDS (this was when their optics were still made in Japan). I mounted it on a B-Square "no-drill" mount. It was/is an ungainly looking set-up, but worked very well - and the turkey and ham march went forward. The final modification was a grip change. After removing the stock Magnas from the donor frame, I installed a beautiful set of S&W smooth Goncalo Alves target grips. Those remained up into the 90's when I came across a pretty unique Hogue monogrip. It was made from Micarta and had a brass spacer on the butt. I knew a fellow that worked at Hogue and contacted him. He remembered the grip and said that it was, indeed, unique and that the customer had supplied the material - just the ticket for a pretty unique gun. Here is a picture in the configuration outlined above....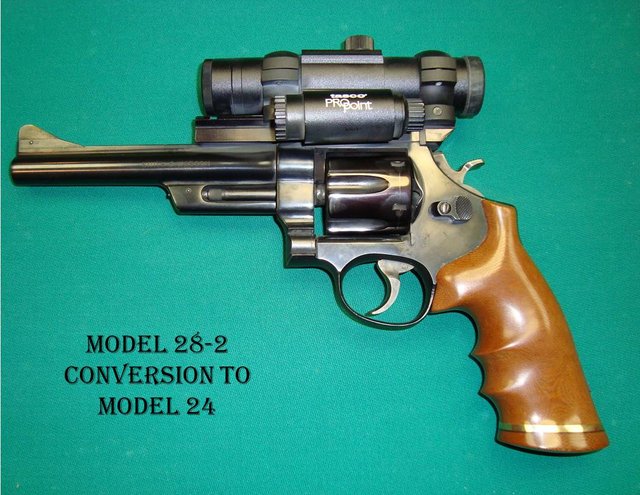 Adios,
Pizza Bob