Discussion Starter
•
#1
•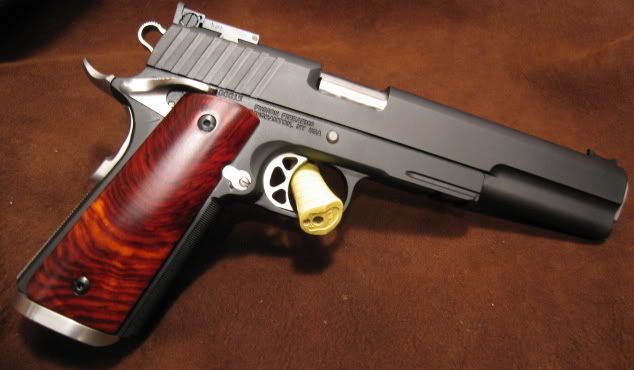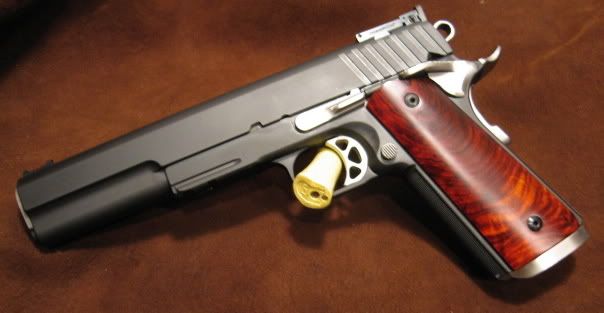 Went the the range today for the first shoot. Brought along a box of 180g RNFP and one box of 200g XTP's from Double Tap. Also brought along 100 misc. 165g rounds, both round and hollow point. The supplied mags, metalform I think, loaded smoothly and surprisingly easy with all ammo.
Just to let you know I am no super shooter. My range goes out to 50' so thats the greatest distance I have shot. My normal distance, if I want to hit paper, is 25 to 35 feet. I rarely shoot at anything less than 20. I am not a great shot but when I compare my accuracy over time I can tell when I am shooting good or bad.
I started with the 180's at 20 feet. The gun felt awesome, unbelievable, and accurate for me. Was shooting about one inch to the left but a great grouping. The slide racked very smooth and upon release made a nice solid sound as it pushed a round into the chamber. I continued to adjust my distance between 20 and 35 feet and was very impressed. Not one problem with these rounds. Accuracy continued to be excellent.
On to the 200g hollow points. Again, not one problem. As a comparison I brought my DW 10mm CBOB. Loaded two mags and shot. Accuracy went down as I expected and the webbing of my hand started to notice the punch. Back to the Longslide, after the CBOB it felt like I was shooting a 9mm. Added mass really helped.
Now I usually will put the target out to 50' once in a range session to see how I could do. At this distance my old eyes see a blurry blob as the target. No ring lines or any detail. Shot one mag and pulled it in. 5 of 8 rounds in a center four inch grouping, a first for me. Next I tried the CBOB, 2 on the 5 inch target and the other 6 either on cardboard or missed all together.
I am impressed.
Trigger seemed to lighten up a bit. Didn't feel like a 3 3/4 pull when I started but defiantly felt that way later.
:rofl:I do have one major concern however. One of the grip screws loosened up a bit. What a shame.
I will break her down this weekend and see how things moved against each other.
Oh, by the way, my CBOB is my "go to" carry gun and I love it very much. Overall I get great accuracy out of it. In no way was i trying bash it above. Just needed something to compare to.
I will continue with more pics and updates.
Yeah, I got the targets but you ain't gonna see'm till I get better with the gun.
Overall I will say this is the highest quality gun I own. Every detail is near perfect, heads and tails above any of my other handguns. I do believe I have a new favorite.