Discussion Starter
•
#1
•
The weather is getting nicer on the east coast which means more time at the range. I thought it would be fun to have members post photos of their targets/groupings to see how different members of the forum shoot. I know we have all levels of experience here from competition shooters to LEO to Shooters just for fun. I was always told that if you want to get better you have to see what your up against and push yourself to the level of those better than you so this will be a learning opportunity for me and other I'm sure.
Here's the criteria: post your target photos, post a description and/or photo of the gun used, the yardage in which the shots were taken, speed (if in comp), and your experience, ie law enforcement, comp shooter, just for fun shooter etc., and anything else you find relevant to describe your day at the range.
If this has been done before I'm sorry... Couldn't find anything like it in a search. I'll start.
LEO, about 9 years shooting experience, about three months 1911 experience, Ultra raptor II owner, is my new off duty carry weapon replacing a H&K P2000 and a smith J Frame .38.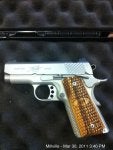 my new baby
fresh outta the box first time pulling the trigger
first time qualifying, second time firing the weapon. 60 round course from 1yard-25yards multiple position firing.
same qualification, night fire course, 40 round course from 20 yards to 1 yard multiple position firing. Both qual's were timed.
My new raptor shoots fantastic. Couple of rounds got away, as you can see, during weak hand one hand shooting. Gotta get used to the gun a little more and I'll real them back in to a nice tight group.
Scott