Discussion Starter
·
#1
·
I finally got myself a pair of Nighthawks yesterday. Took delivery of a Heine Signature Competition Series and a Predator 2 both in 45 acp. These are pistols I have waited for quite awhile. I am fortunate that my local dealer was able to import them for me. Needless to say they are a rarity in my neck of the woods, a major reason I picked up both when I had the chance to do so. Ran an initial 100 rounds through each to get acquainted.
First impressions on each of the pistols since 100 rounds down range isn't a conclusive basis to make any definitive judgements. Fit and finish are excellent. This is my first encounter with melonite. There is a smoothness to it that is unique. It's a different feel compared to the nitron finish on my sig or the armor tuff on my wilson. The look I would describe as smokey black. I love the fact that they already include slide top and rear serrations as part of the package (I would have ordered those if they weren't included). I also think that it is great that each came with a spare fitted extractor. The inclusion of the bottles of gibbs oil is a plus.
Triggers on both are very crisp and break cleanly. The Heine is a very well sculpted gun and the fit of the frame, especially because of the thin grips, is well suited to my small hands. I like the scallops on the front straps as they provide adequate purchase. I am not too fond of overly grippy serrations or those bordering on sharp.
I actually like the olive G10s as they provide good contrast to the black melonite. They have just the right amount of grippiness without being too aggressive. An added bonus is they match up well with my Emerson jungle commander. I was pleased with the red fiber optic sights for indoor range use as it jumps out at me aided by the plain black rear sights (exactly my preference for rear sights though I am partial to wilsons u-notch battle sights). Although I think my poor vision and my progressive lenses would do slightly better with a slightly larger diameter on the rod.
Slide to frame fit and lock up is spot on and not overly tight. Racking provides a smooth action and no rattles whatsoever (I wouldn't expect that at this price point). I am also pleased that the bill boards were left plain black unlike the pics you see in their web page --- unless that was done just for the catalog photos. I need to get adjusted to the grip safety as the dimensions of the frame and grips coupled with the grip safety tend to result in some discomfort in the web of my hand between my thumb and forefinger as I try to get as high a grip as I can. In this aspect I prefer the grip safeties first and foremost on my brown, next on my wilson. I would place the heine third in terms of feel of the grip safety (solely feel in the web of my hand and not engagement). As I get more used to the pistol, I will see if I get a better, more comfortable grip.
The pistol worked fine with both magazines provided though the black magazine has some slight hesitation as you slide it up slowly. Don't baby the mag on a reload and it is fine. My Ed Brown 8 round and Wilson Combat ETMs worked well with the pistol. No choke ups whatsover. Next time I take it back to the range, I will see how it performs with my tripp magazines and my Wilson ETM 500s.
This is a joy to shoot. Sorry for the lousy cellphone pics. No skills or equipment in the caliber of the impressive Birdy photo shoots.
Here is my target with 48 rounds through it at 5 meters.
Another 52 rounds through at 10 meters
Fly aways are all on me. Still have to work on my trigger pull and work on my eye glasses.
The predator is also well fit. The lock up is quite good with the cone barrel. The added weight on the front of the slide because of the barrel results in an ability for quicker follow up shots. The difference in recoil profile, while subtle, is clearly perceptible to me to the point that it would at times give me pause (my mind was expecting a little more recoil).
Grip is beefier than the heine as these are regular grips. Checkering on the front strap and rear is good by my standard. With the beefier grip i dont have the same issue with the grip safety as I have with the Heine. Trigger is equally crisp and breaks without hesitation. I was also pleasantly surprised that the pistol came with what looks to me like a one piece magwell. I was led to believe that they normally come with a two piece magwell and the one piece is an upgrade.
Both magazines supplied with the pistol worked flawlessly. Same hesitation on the black magazines which should ease up as the magazine finish wears in with use. The only hiccup was the pistol would just not get along with one of the Ed Brown 8 round mags. Every round would fail to feed, though it worked well with the heine. I am not so sure what is the issue. The round would be pushed halfway past the magazine feed lips then would dive slightly down onto the feed ramp. But all the other mags worked just fine.
The tritium sights (particularly the front) was more difficult for me to pick up compared to the fiber optic sight. Being near sighted, the rear tritiums show up more brightly causing my eyes to jump back and forth from front to rear affecting my focus. Got to get more acquainted with these sights. Strangely though the tritiums on my brown are easier for me to deal with. These ones and the ones on my baer give me some difficulty. I can't explain it since I think they are all trijicons.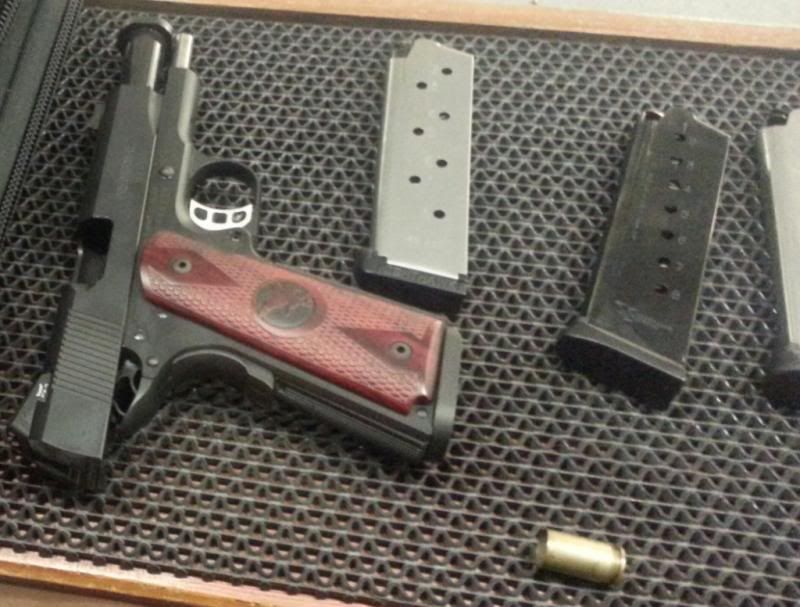 Here's 100 rounds all at 5 meters. Still hitting left if center which I attribute to my trigger pull/finger, definitely some flinch in there.