Well Fellow Coltaholics I had been looking at the WWI repros and was amazed at the prices,, One finally showed up at a local shop, and I went to look at it today, It was unfired and not out of the box except for the pics, Slide not racked till I did... I was thinking it was one of the blue ones, But as it turned out it is one of the 1918 black oxide finish guns,,,,,, I did hem and haw a bit, But I finally deciaded to get it after looking it over real well for the flaws you folks have pointed out, and it is free of any issues,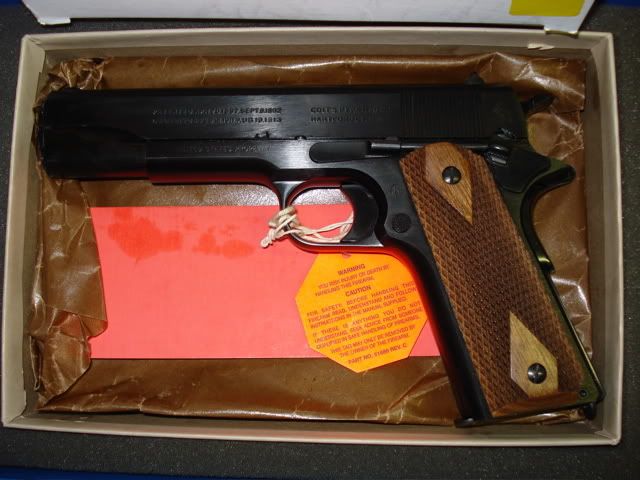 The cost was $950 out the door,, I think I did okay, But I am sure you will let me know! What did the ser#s start with these model 01918 1911s?
Then on the way home I stopped at a local shop to pick up more of the McCormic mags for $12.00 each, I figured I'de stock a few while this place had them at this price, And sitting there in the cabinet was this lil Colt Mustang Pocketlite Just begging to go home with me,
It was also as new in box with all papers and extra high cap mag,(long) for a great price!
Well it also followed me home,
I HAVE GOT TO STOP JUST STOPPING BY LOCAL SHOPS WHILE I AM IN THE NEIGHBORHOOD!!!! It was on the same road as the other,
Now I have two more to play with,,,,,
And I think I need another safe too!
Hope all your holidays are treating you well!
Peter.