(CONTINUED FROM PART I)
http://forums.1911forum.com/showthread.php?t=124433
MAINSPRING HOUSING PIN:
Okay, maybe I'm getting a bit picky here but the depression for the center punch is slightly off center. While this photo is taken with a macro lens, I can assure you that this caught my naked eye almost immediately. I work with 4x loupes when working on teeth but this just sticks out with just a glance.
MAGWELL BEVEL TREATMENT:
***right side***
***left side***
As you can see, if you follow the bevel from the frontstrap to the MSH/backstrap, the bevel becomes irregular on the right side; the left side shows even execution all the way through. Sure, some may say just get a speed chute and forget about it.....but for me, it's like leaving chipped ceramic on a crown b/c it's in an area no one (including the patient) can't see.
FRONT OF TRIGGER GUARD CHECKERING:
This photo shows the bottom part of the checkering on the front of the trigger guard. It extends down almost exactly to the mid-point of the arc between the front and underside of the guard. The vertical 'peaks' are just a bit off level - this takes a bit closer inspection to reveal to the eye. At first I was hoping that they could 'frame' or 'border' the bottom part with a defined horizontal cut but guess that only looks good with a 'squared' trigger guard.
Anyone out there have photos of checkering on the front of their trigger guards? I'd like to see how WC terminated the lower border on other models. Nevertheless, the checkering looks very 'cool' and I guess I really can't complain.
DEHORNING/RADIUSING OF TRIGGER GUARD-DUSTCOVER INTERFACE:
***view from bottom***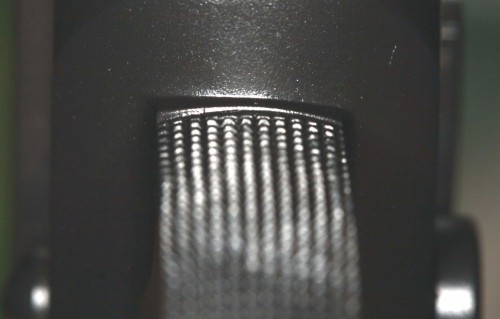 ***view from right***
***view from left***
If I weren't a dentist who by training looks for contours, symmetry, and paralellism, this may have escaped my eyes. Looking at the first photo (view from underside of guard), you can see that some more 'rounding' is required on the pistol's right corner (left side of photo). This is verified by looking at the side views where the 'view from right' shows a very small excess of metal.
WILSON COMBAT'S RESPONSE:
I sent Matt a file prepared with these photos and a written description of what I saw. He 'saw' what I was 'seeing' and forwarded the file to the shop forman. The response from the forman was "from his point this gun is acceptable;that it is a handbuilt weapon and irregularities should be expected." Matt also said that the Super Grades do get more finishing labor on those points, hence the price. He was sincere in expressing his discomfort with my dissatisfaction with some of the finish points but did say that "you won't see that stuff in a production gun cause that is machinery at work; not human hands."
I can probably swallow that bitter pill for the checkering job, and be okay with the MSH pin as a new one could be made (with the depression centered), and the dehorning improved at a later date if and when I need to send it back for some other service. The magwell bevel is still a confusion for me; their catalog states that their frames 'in the white' come with the magazine well beveled so I assume that this is something done by machine during the CNC milling work and I let them know that this could be a computer programming issue, but shouldn't this have been caught or seen during hand finishing? I did happen to look at a used consignment Wilson Protector at my range and its mag well bevel was perfect. Dunno but beyond some of the little extra tweaks a supergrade gets, shouldn't some of these issues have been recognized and corrected during production? In the least, the MSH pin and well bevel should be perfect on a gun of this price point or any other price point they offer.
Based on their first response, I feel like I have to live with this as according to them, my firearm is 'acceptable'. Like I said, I'm keeping the gun, it shoot better than anything I own (maybe on par with my HK mark23), sits on my hip like an appendage, and is so darn easy to shoot! But what bothers me is that there was no offer on their part to address any of these issues, lumping their response into a generic 'acceptable'. Doctors often say 'within normal limits'. I never say that to my patients nor expect that on a firearm of this price and reputation.
I did respond by suggesting some re-treatment, including re-coating the areas that need polish work but haven't heard from them since I sent my reply on Friday afternoon. Matt is darn fast with his replies so I should hear back from them on Monday.
If you made it this far through my review, I thank you for taking the time to read and listen to my comments. Like I said, I love this gun to death and it ain't going anywhere. Like Charleton Heston said, " You can have my gun when you pry it from my warm, living hands"
God Bless and Good Night.
Dave.