Discussion Starter
·
#1
·
After waiting for what seemed like an eternity (almost 2 WEEKS!!) I finally picked up my new CBOB in .45 ACP last Wednesday.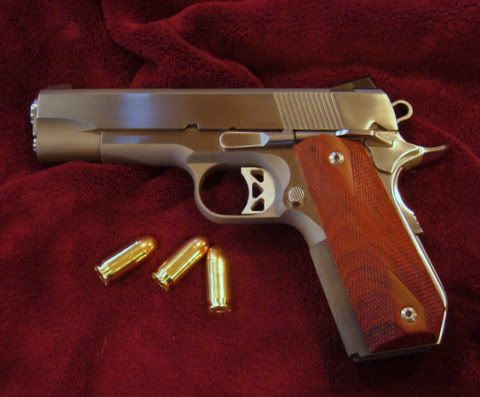 Yesterday, I finally got the chance to take her to the range. It was an gloomy, overcast day, and I was consumed with anxiety - what if she didn't accept me? What if I wasn't worthy?
We arrived at the range, and I set up my 6" Shoot 'n See at 12yds. My hands trembled as I carefully pressed the 230gr FMJ rounds into those beautiful stainless magazines. My knees were weak; my mouth dry. Never in my life had I been in such a life changing situation.
I put the first magazine in, and drew a bead on the target. The tritium sites winked back at me reassuringly. I pressed the trigger, and instantly, a bright green spot appeared dead center in the target. I couldn't believe my eyes! Again and again, I squeezed off shots, with the same result.
As I dropped the second magazine, something amazing happened. The clouds parted and a beam of light appeared directly upon me. As I looked into it, I saw the Great Gonzo himself descending on a chariot of fire. He approached me, and touching me lightly on my head with his scepter said:
"Are you saving your brass?"
At this point, I realized that I had achieved enlightenment. :rock: