Discussion Starter
•
#1
•
Good things are worth the wait.
Although I only had to wait a little over a month than originally expected, it seemed like an eternity.
So it's finally here. My Thunder Ranch Comanche Hard Chromed in 45 ACP, of course. And it came with ambi-safety, which is ok with me.
So...........On to the range report.......
I ran a bore snake through the barrel and placed a few drops of break free oil in all of the typicl places before I began shooting.
I went through 400 rounds of Federal Red Box American Eagle in a little under two hours at my local indoor range. After every 100 rounds, I cleaned the barrel with a lightly oiled bore snake used a dry patch to wipe the feed ramp.
From the first mag load I tried to sling shot the slide. The first two or three magazine reloads, I had to release the slide stop to go into battery. By the third or fourth one it started to sling shot. Every mag load after that was done by sling shotting the slide and not using the slide stop. I was very, very pleased with this result.
I first used the three mags that came with the pistol, then a Wilson 47D, then several of my Chip McCormick Power Mags. After that I used any of the mags above in any order.
Throughout the entire first 400 rounds I did not have any failures of any kind.
It took me just a short time to find the point of impact. Like my other 1911's with night sights, if the front dot is slightly higher than the rear dots you'll be right on point of impact, barring any shooter problems.
If the weather is nice tomorrow, I'll do some outdoor shooting. I hear there are some bowling pins that have been terrorizing the country side. :biglaugh:
Ok......so enough jabberin.....here are the pics............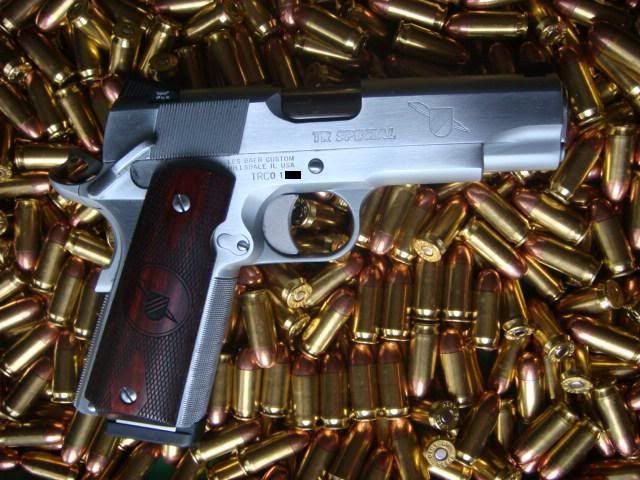 Once the hole got this large I was simply sending jacketed lead down range. I even shot a few double taps to see how the pistol would handle them.