Discussion Starter
•
#1
•
Benchmade ERT1






The Benchmade 10105 ERT1, Emergency Rescue Tool-1, is a compact and lightweight device equipped with a V-shaped blade, a windowbreaker, light and a carry clip.






The V-shaped hook blade is made out of a carbone steel with a large portion of cobalt. This for keeping the edge sharp over a longer period of use and it helps to keep rust of the blade.

Out of the box the edge is extremely sharp. The thump stud is tall enough to be operated with a working-glove. You can change the side of the stud very easy with a torx-driver. The lock-back mechanism lock's the blade very rigid without any play. The "tip" of the curved blade is rounded so you don't have to worry that you could hurt the person you want to rescue or arrest.






Cutting soft material is a breeze with it. A seatbelt or a coil of 5 para-cords is not an issue for his blade. So I cutted a double layer of leather and a Cordura duty-belt with a polythene core by side several other stuff. Both were no issue too. But to cut he belt you had to apply a quiet amount of force.






On the bottom side you will find the spring loaded windowbreaker. When a window is hit with the tailcap, the cover will be pushed inward for about 1/3 of an inch before the strong spring loaded striker-tip hit's the window. Breaking car-windows is very easy with it even if you don't hit the corners of the window. The kinetic energy of the striker is very powerful.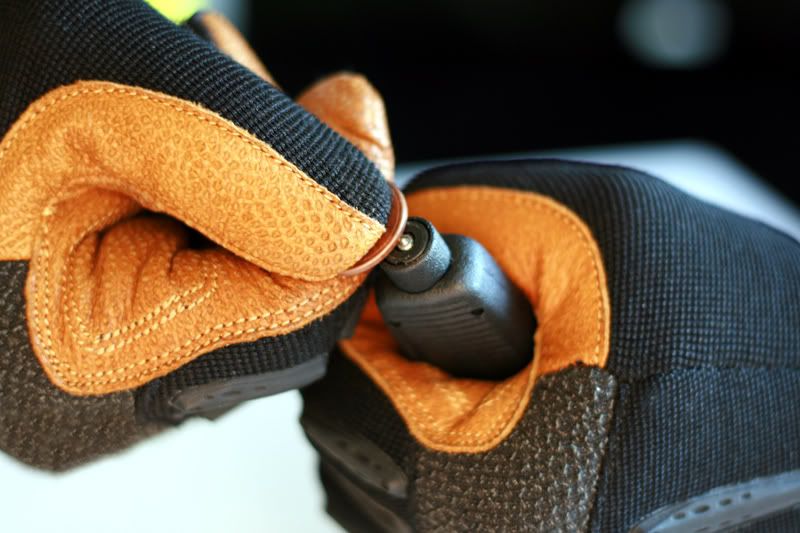 There is a little LED-light pointing toward the blade. This helps a lot when you have to work with the ERT1 in the dark and you may need your other hand. The rubber switch seams durable. The batteries are included. I dropped the ERT1 into a sink for one minute to see how it will work when wet. As I took it out it worked for about 8 on/off operations and after that it stayed dark. So I thought about taking it apart to dry the lamp-system. Well, you need 3 different torx, one very tiny, one Allen-head and a Philips-driver to get it apart. Since I don't had that small torx-drivers I wanted see if it dries from itself. After about 10 minutes I could switch the light on again. But it would not go off when I pushed the button. After several tries to switch off the LED the Battery died after aprox. 3 hours.






Normally I am a 100% "tip-up-carry" guy but the carry-clip will just allow you a "tip-down-carry". Butt his is not bothering me on this tool since a "tip-up-carry" would just rune your pants when carried in a front-pocket. The blade would open during the draw like a "wave-type" blade and cut your pocket. It´s not a problem for a south-paw to carry. You just have to switch the thump-stud to the other side and you are good to go.
What I really miss on this thing is a lanyard-hole.



The ERT1 is a very stable tool. Sharp blade, powerfull glas striker and a bright light. But if you plan to use it in a maritime environment and you have to count on a light, then you better pack another torch as a backup.






For me the ERT1 is not just another rescue-tool. I my opinion it is a little more. If you work in law enforcement and you want a "car-entry-device" but you are already humping around with a truckload of gear. Or you pull plain clothes duty and you can't carry large tools. Then the ERT will help a lot to extract the subject of your arrest warrant out of his car, right trough the window by the "Carp-Hold", even if the doors are looked.


I hope this review is useful for you.








​