Discussion Starter
•
#1
•
The
Comp-Tac
company recently released a new model called the
MTAC
. This holster is a hybrid in that it makes use of fine leather and Kydex for its construction.
I'll be honest, at first glance it thought it was ugly. I was looking for something more traditional made from leather like Milt Sparks. Well, good luck getting Milt Sparks to build you a holster any time soon! So I gave the MTAC a second look, this time trying to be objective about the construction and the materials. After a few minutes the design really seemed to make sense to me. I read a few other reviews on the internet from people that had gotten theirs and everyone was quite complementary of the holster.
Late on November 30th (Friday) I placed an order online. By Saturday afternoon I had an email from Randy at Comp-Tac saying my order was being processed and the build was started. He advised me the time from build to the holster being on my doorstep would be about a week. I have to give cudo's to these guys for their exceptional customer service by the way. I made a mistake in ordering online and selected a 5" barrel length for my 1911 when I meant to order a 4.25" (Commander size). On Sunday I emailed Randy and by Monday morning he said my order was updated.
Friday afternoon I come home from work and I have a USPS package sitting in my mailbox. Inside the package is my new MTAC holster which has been professionally packaged and in excellent condition.
As you can see, the guys at Comp-Tac even included a couple rolls of candy and an allen wrench for making adjustments to the holster, which is a nice touch.
Before taking the following pics I made a few adjustments to the holster itself and put it on for a night out on the town. These pics were taken this morning after wearing the holster for about 5 hours last night at dinner with friends.
The holster slips right into position with a minimal effort. I ordered the rig with the J hooks which cup the bottom of your belt (you specify the width of your belt when you order) thereby preventing the holster from pulling free of your pants when you draw. There are several options here for attachments, which is a nice touch.
So into the car and out to dinner I go with the wife. The first thing I notice is that due to the design of the holster, my side is completely padded and makes no contact with the pistol itself. The back side of the holster that contacts your skin is padded with what appears to be a very soft pig skin (see picture below). This translates to a VERY comfortable carry, one I'm not at all use to. So far, so good. A+ on comfort.
One of my major issues with most holsters is that they tend to move around. keep in mind I'm not a huge IWB holster fan. I usually go with an open top belt mounted holster for all of my handguns. The few IWB holsters I have always rubbed me wrong, were too thick or just moved too much because of the lack of proper anchor points. With the MTAC all of these issues were non-existent. The anchor points are spaced far enough apart and the texture of the leather grips your skin and pant fabric enough so that it doesn't move hardly at all. Again, another A+ for design and construction.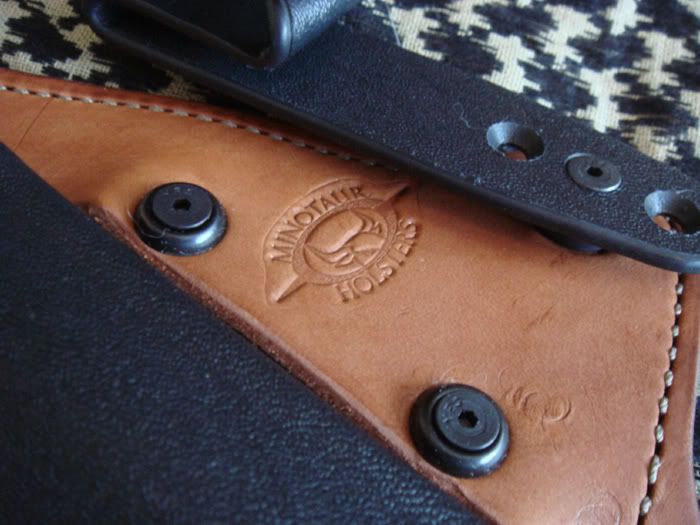 Since this holster is a hybrid and makes use of the relatively new wonder material Kydex, the mouth of the holster remains completely open even with the pistol removed. With traditional leather holsters most manufacturers recommend you never remove the pistol from the holster while wearing it unless you need to. The leather alone is easily crushed by the belt tension and over time will flatten your holster. Not a major problem, but something I really don't want to worry about. With the MTAC, I don't have to worry about this at all. I can quickly and easily remove and reholster my pistol.
You may also adjust the tension of the holster by tightening or loosening two screws. Not only does it adjust how tightly the holster grips your pistol, but it also adjusts how much tension your belt places on the pistol by offering some resistance to that pressure.
All the components are of exceptional quality. The Kydex is nicely formed with no visible imperfections. The stitching of the leather is uniform and appears to be very durable. All of the adjustment screws have rubber grommets around them. Over all, once again I must give the quality of the materials and construction an A+.
If you're in the market for a IWB holster you should give the MTAC holster considerable consideration. The quality and design are first rate and the company is very responsive to their customers.