Discussion Starter
•
#1
•
Review
Primary Weapons Systems DNTC
"DNTC" stands for Dave-Neth-Tactical-Compensator. Dave-Neth, who is a 2 times team world champion in 3Gun competition and an Idaho-State-Trooper, developed this comp together with AKConcepts now known as Primary Weapons Systems. As I got this Comp the company was still named AKConcepts and there main subject was the tuning for AK-Rifles.
Somehow every thing went wrong with my AR15. First I had to wait 16 month till I got it. And as I got it, I had to find out that it was shooting offline. So it took a while to get things done.
As I went for an AR15 I was sure that I want a comp for it. What I was looking for was a device that will tam the muzzle raise, be not to noisy and looks as much Military as possible. Also the recoil, speaking of the push backward, did not bother me. Since all my shooting with it is IPSC I had no concern about muzzle flash at all. I have some mates with good comp´s around here but either there were way to loud or they looked to "sporty" for my taste. So I scanned the marked, asked stupid questions in Gun-Forums and after all I selected the DNTC.

The DNCT came with a Crush Washer but somehow I needed a Peel Washer to make it fit to my Sabre Defense. The installation was very easy. Since I have mounted the Comp I have shot about 2200 rounds trough it. Most of it was AE 55gr.

I have to say that this comp absolutely accomplished my expectations.
At least to me it looks more Military-like as most other comps on the marked.
Another thing I wanted was less muzzle rise. When shooting at an IPSC-Classic-Target at 25meters the dot of my Aimpoint will stay inside the A/C-zone. With the A2 –brake mounted I needed about .79sec for the next follow up sure A-Zone hit. The DNTC made me cut that down to .45sec. Shooting at 50meters the A2 made it impossible for me to keep the dot on the entire target and the whole movement of the rifle cost me almost 2sec. to get the dot back on "A". With the Tactical-Comp I could keep the dot on the target and follow up "A´s" were much faster and close to one second. Well I am not a super-shot but it helped me a lot to improve my times/hits. But I could feel no difference in the recoil itself. But maybe that´s just me.

The sound. Yes it is louder then an A2 brake and I can not recommend to shot the DNTC without ear-protection. I would not recommend shooting any unsuppressed firearm without E+E-pro but I read in some forums that some people shot there AR on the range without them. A mate has a JT-BCTC on his AR and it is WAY louder then the DNTC.

The Blast. Yes there is a blast. And yes there is more blast as with an A2-Brake. You feel it when you fire an AR15 with this comp. But it is not as disturbing as other comps were you feel it in your teeth and inside your head. The Shooter´s left and right from you in a firing line will also notice the blast. But also for them it is not disturbing. Shooting prone is no issue. But if you shoot it prone holding the rifle sideways you will eat dust. Since the blast is directed to the rare and up this is normal.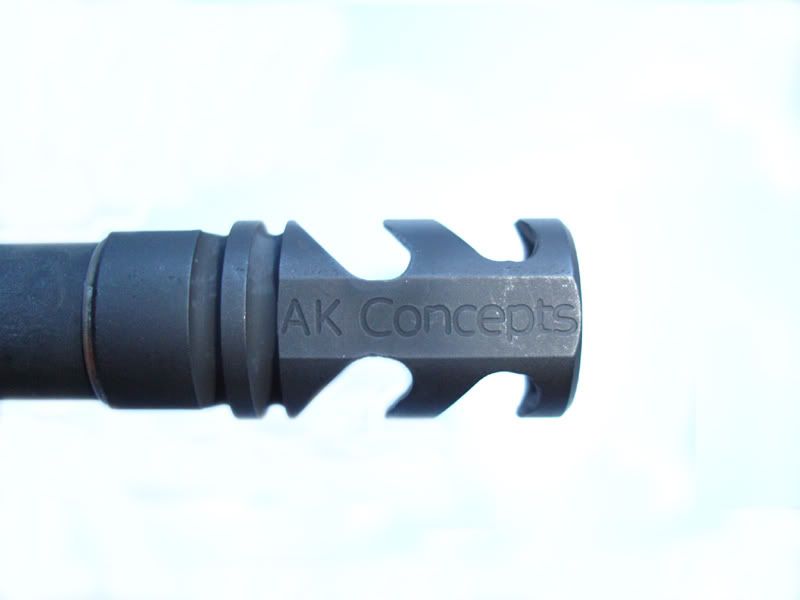 I told you that I don't care about muzzle-flash. But since I know that some of you do I took it out to the range at dawn. As I shot it with the AE at daylight I could see no or sometimes just a very little flash. In the dark you see a flash. With the Ammo I shot it, the flash had about the size of a small, closed fist around the muzzle. Fore those who don't want the flash P.W.S. has a FSC556 comp at the ready which will work like the DNTC but was build hide's the flash.
When I ever make it and get me an HKG3-type rifle I will for sure get me a .308 comp from P.W.S. for it.
Not just the product from P.W.S. impressed me but also the very nice contact I had with Todd. He never got tired of answering my questions.


I hope my review is useful.

​