Discussion Starter
·
#1
·
You guys saw the thread about walking into this deal, so I won't rehash that here other than to say, I think I stole this sucker! :biglaugh:
I'm so busy in the shop that I don't have time to shoot it seems, but I can give it the once over of thoughts on it.
First off, here's a pic of what I'm talking about.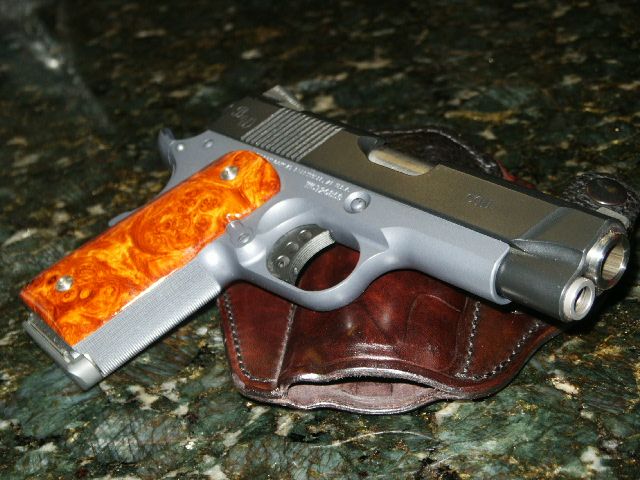 Sorry for the stainless screws, I can't believe I ran out of black.
Anyway, I'm VERY happy with the finish on this weapon! From pics I had seen before, it looked like a thick paint, but having it in my hand, it's not. It's very well done and compliments the weapon with a classy two tone look that's very appealing. There are no scratches, dings, dents or anything else that I can find in going over the weapon with a bright light. This thing still had packing grease on it!
I have a DW CCO that I really like, and this is very similar in shape, although the BWC is heavier (not a bad thing in a weapon this size). The thing I really liked about my CCO when I picked it up is how much of a difference the small rounding of the butt made in shooting. Since they're so similar, I'm sure this will be the case here as well. It's not that officer frames were uncomfortable for me to shoot with, it's more that the rounding makes it MORE comfortable to shoot with.
This pistol shows a LOT of attention to detail throughout. Notice the MSH and the checkering done to it. The fitting of just this part tells me much about the attention paid by those who assembled the weapon and speaks to the overall high level of quality throughout.
The trigger on this thing is phenomenal! Light and "crisp" doesn't begin to cover it. Simply stellar!
The cut under the trigger guard is higher than I'm used to but it let me do a cool kind of detail with the grip panels that I like. The frontstrap checkering is sharp and clean. Again, attention to detail and quality just ooze from it. I did bring the grip panels all the way up to the checkering on the frontstrap. I hate seeing frame flats, and now the radius of the frontstrap seemlessly meets with the grip panels for a great feel. One of the advantages of having the right hobby.
If I had to come up with one thing I was less than enthusiastic about on this pistol, it would be the sights. I'm used to larger tritium vials and in comparison, these seem tiny. I do like the color contrast and have that on all of my carry weapons. Makes sights easy to pick up/line up in less than ideal light. The smaller vials is not a problem, just something different than I'm used to.
Overall, I can't wait to get this baby to the range! I don't think this will be the only Wilson I end up with. :rock: Very impressive weapon all around. I'm so lucky to have ended up with it. I appreciate the info you guys gave me in response to my uneducated questions when the deal popped up. Thank you!
Oh, for those of you into such things, the holster is a VMII with shark trim.
Here are a few more pics....