Discussion Starter
•
#1
•
There's an indoor range in Millington, TN that I visit from time to time. It's not a very big place and they don't have much of a gun selection; I think they average about 10 handguns, new and used, in their showcase. But they seem to get some uncommon stuff for sale, every so often. Last gun I bought there was a HK P7M13 for $795 a couple years ago.
On a whim, I stopped in last weekend and they had a two-tone 1911 in the case. It was the shop owner's personal gun.
At first glance it looked like somebody's parts gun they threw together, but the Heinie sights and frontstrap serrations got me looking closer. It turns out it was professionally built in 2002 by Marty Cutrell when he was doing work for Ballistic Specialties in Batesville, Arkansas. They mainly do "angle porting" for shotguns and their website's
http://www.angleport.com
.
I don't know how many guns he built there, but I don't think it was a large number. In 2003, Marty would go on to work for Yost-Bonitz.
As I did more research on the gun, I discovered that Marty had actually posted a thread on 1911forum when he had finished building it. I also discovered that it had a titanium frame -- something that I hadn't realized when handling and shooting it. But the magnet test confirms it. And it also helped that Marty left the serial number in the photos he took!
This seems to have been a purpose-built IDPA ESP gun in 9mm, and the Ti frame was used to keep the weight within the IDPA limits. Convenient, since that is exactly what I'm going to use it for!
When it comes to specifics, it seems that Marty also chose the other parts well. I don't have an exact build list for this gun, but I do have a few templates of standard guns they offered at the time.
My gun deviates a bit, but I think this is what he used:
Ballistic Kote Finish, Semi-gloss Black Upper, Silver Lower
Front Strap Checkering 25LPI
Front & Rear Cocking Serrations
Ejection Port Lowered & Flared
Slide to Frame Hand Fitted (Caspian Slide & Frame)
Bar-Sto 9mm ramped barrel, Hand Fitted
Heinie Sights
EDM Light Weight Match Hammer
EDM Match Sear
Chip McCormick Match Disconnector
Wilson 30LPI Checkered Mainspring Housing
Hand Fit & Contoured Ambidextrious Safety
Hand Fit & Contoured (High Ride) Grip Safety
Wilson Extended Ejector
Wilson Extractor
One Piece Guide Rod
12 LB recoil Spring (Wolff)
Wilson Slide Stop
Titanium Firing Pin
Ed Brown Firing Pin Stop
Chip McCormick Sear Spring
Hand Contoured Wilson Expanded Magwell
Chip McCormick Lightweight Trigger
Grips are, I think, the Navidrex contoured Micarta. The gun has a generous carry melt, and I can't feel any sharp edges anywhere. It's marked "Ballistic Specialties" on the left side, and "Angle Porting" on the right. Despite that, the gun is not actually ported. The bushing definitely requires a wrench, due to its wicked tight fit in the slide, and I will be fixing that sooner rather than later.
I can't quite be sure from the original photos, but I think the gun may have been refinished since it was built. The finish is a little beat up and worn off some high spots, but it still has many miles left on it. Judging by the magwell, it has probably been carried more than shot.
How does it shoot? Perfectly. The gun came with three Metalform 9-round mags. Using them and my newer Tripp 10-rounders, there were no problems whatsoever. It ate bullets like they were candy coated and greased with bacon fat. The trigger is set at 3 pounds.
Accuracy-wise, the best I was able to do from an improvised rest was about 1.5" at 20 yards with my IDPA handloads. I'm confident the gun will do better, but I'm not able to do better kneeling behind a plastic drum and resting the gun on my range bag.
Here are my photos: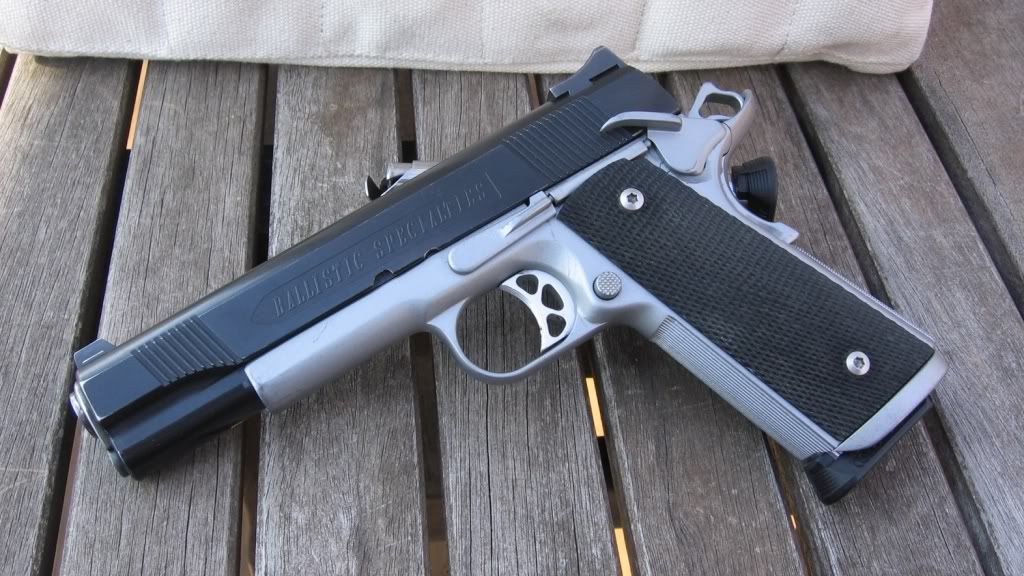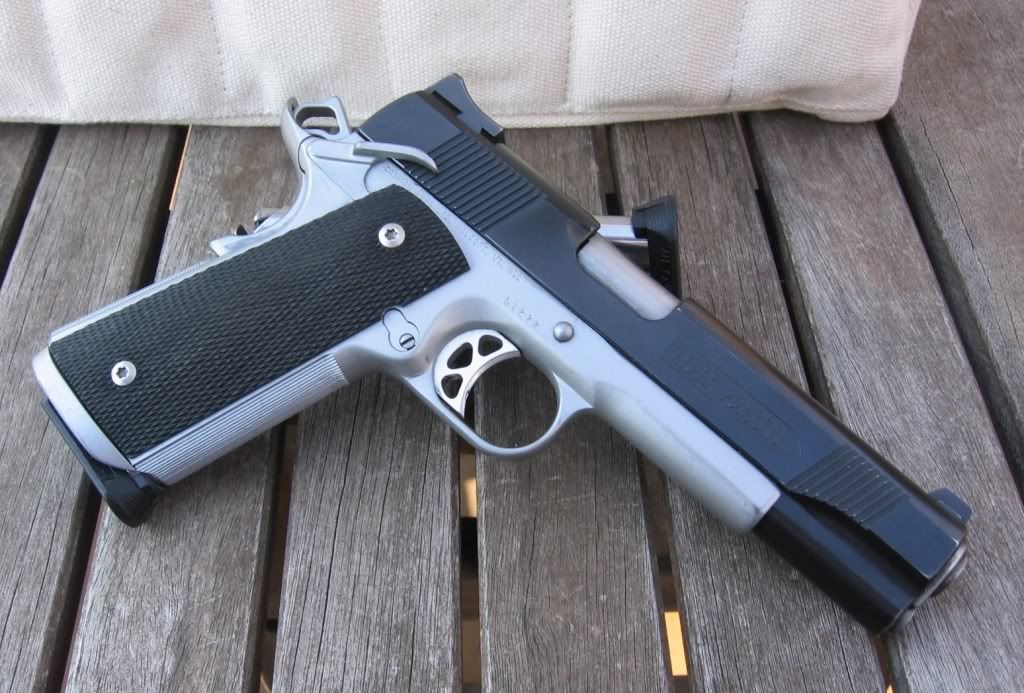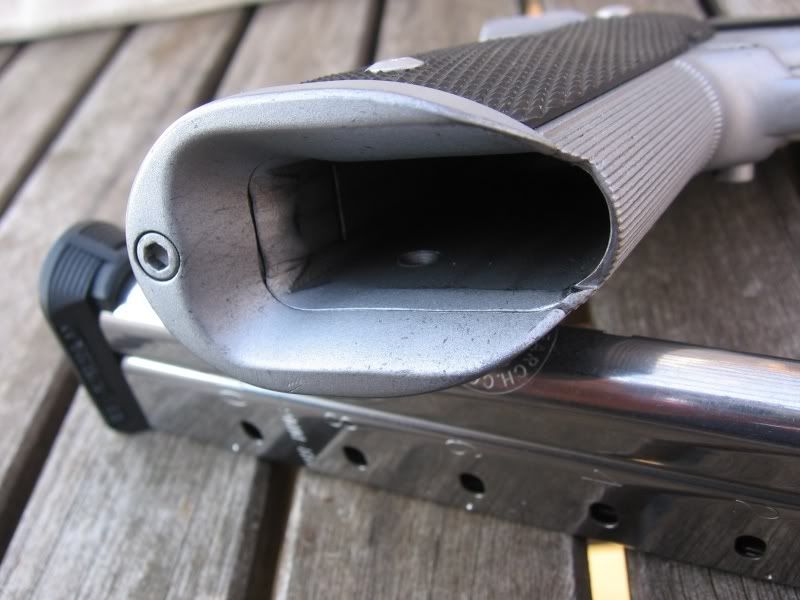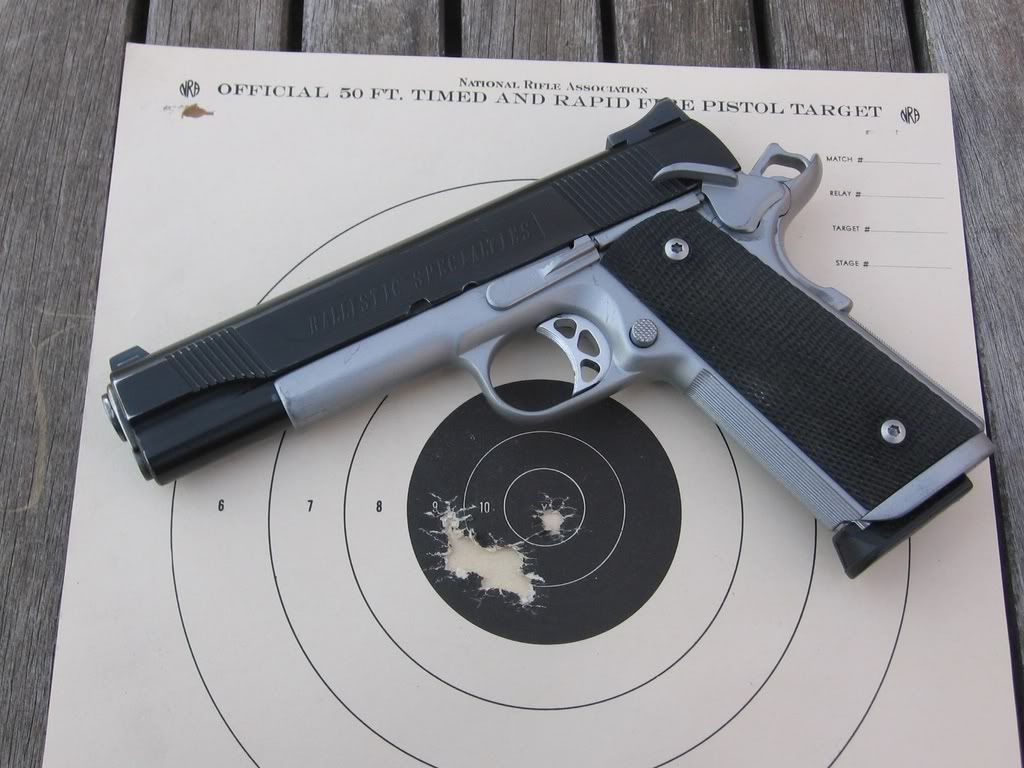 And here's the photo Marty took when he originally built the gun: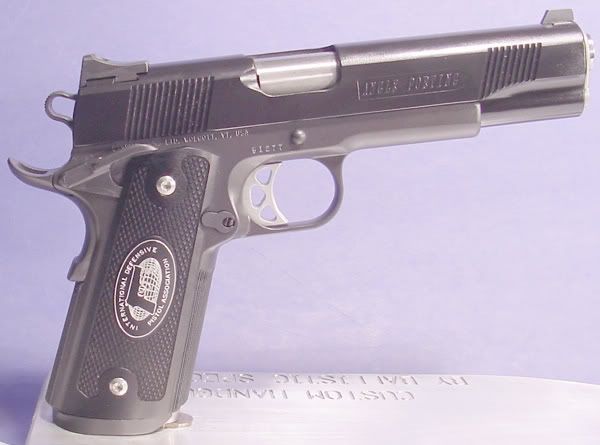 Quite aside from the thrill of finding a full-up custom with exactly the features you want, in a place you least expected it, it came as a complete surprise to discover that this gun happens to be one of the few that Marty built and posted in a way that I can conclusively identify it.
For those of you that are interested, here is the original 1911forum thread:
http://forums.1911forum.com/showthread.php?t=23424
I don't know where Marty is or what he's doing today, but I'd like to thank him for putting together such a nice blaster, and assure him that it found another good home!