Discussion Starter
•
#1
•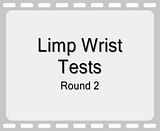 This time I held the guns sideways in my hand. My wrist wasn't in the equation. I only tried to keep the guns from flipping completely out of my hand (I almost drop the Beretta as you'll see). Another thing to consider is that the guns are not only flipping up but are allowed to move backwards 6+ inches during recoil... something that wouldn't happen if you were using a proper two hand hold.
As noted by several others, the Glock absolutely will not cycle when being "limp wristed". It failed to cycle every single time.
The Beretta would fail usually once per mag, it did fail twice once. It also fired several magazines without a failure.
The others worked flawlessly including my buddies "truck gun" which is an old Colt Commander (1991A1) that literally hasn't been cleaned in 10 years. It's covered in rust and is filthy. I threw it in there expecting it to fail (it was bone dry too).
The other guns were freshly cleaned and lubed with Rem Oil. All were firing Winchester White Box.